Biography:
Endthisday formed in Wisconsin in November of 1999 with the goal of showing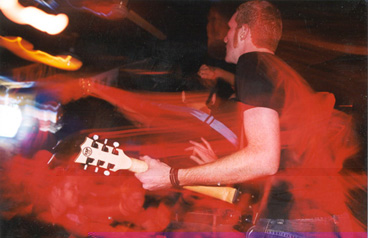 audiences in the hardcore scene that metal has a place on the dance floor. Blending the melody of European metal with the energy of American hardcore in a unique way, Endthisday forges a new path for metal in the hardcore world. Combining blistering speed picking, massive breakdowns, catchy sing-alongs, and other well-rounded elements into their music, they create levels of intensity rarely achieved by others.
Endthisday recorded their first demo CD in March of 2000. For the next year, they played a number of shows throughout the Midwest in support of this CD, sharing the stage with a number of large national acts, and gaining the attention of hardcore and metal audiences everywhere. In this time, they sold every one of the 500 copies produced with absolutely no distribution or touring, except for a week long stint with Undying in the summer of 2000.
With the addition of new members in 2001, Endthisday quickly rose to a newfound level of maturity, creativity, and raw energy. The music became more dynamic and intense, and powerful live performances turned more heads than ever before. In July of 2001, Endthisday returned to the studio to record their highly anticipated second demo CD, "Only The Tears of Angels Will Reveal Our Sorrow." Since then, they have have played a handful of shows around the Midwest, done a brief tour of the East Coast, and winter tour of the Midwest and Southeastern United States, allowing them to sell over 800 copies of that CD with no distributional assistance.
Endthisday signed with Germany`s Lifeforce Records, and released their debut full-length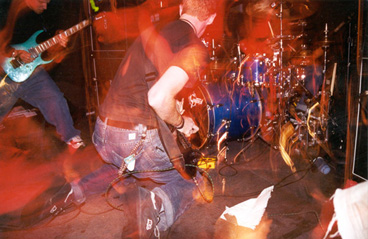 CD, "Sleeping Beneath the Ashes of Creation" on August 20th. This release sold 1,500 copies in its first two weeks alone, and is rising to the top of metal charts around the world. A summer tour in 2002 helped turn even more heads to Endthisday's sound, and with more extensive touring plans in the works, they set to take the world by storm.
Sadly band split up later in 2002.
Line Up:
Aaron Cosgrove – vocals
Noah Nickel – bass
Brad Clifford – guitar
Joe Dalen – guitar
Bill Kurth – drums/ vocals
Discography: 
"Demo 2000" – CD – Self-released – 2000
"Only The Tears of Angels Will Reveal Our Sorrow" – CD – 2001
"Sleeping Beneath the Ashes of Creation" – CD – Lifeforce Records – 2002